Bibliography
---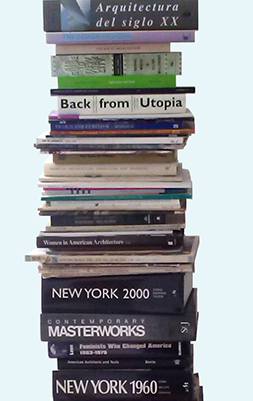 This is a partial print-only bibliography.
Abercrombie, Stanley, "Sampling of the Work of an Emerging Dozen." A.I.A. Journal, Sept. 1980
___"Rooms for the Federal Design Assembly," Interiors, January 1979
___"Law Office," Interiors, March 1977
___"A Clue to the Labyrinth," News. Architecture Plus, November-December 1974
Aizemberg, Matias, "Construyendo el Primer Mundo," 3 Puntos (Buenos Aires), November 16 2000
Allen Gerald, "Crisis in Housing," Architectural Record, October 1975
Anthony, Kathryn H., Design Juries on Trial, NY: Van Nostrand Reinghold, 1992
Arnell, Peter and Ted Bickford, Houses of the Hamptons, New York: Alfred Knopf, 1986
Ahrentzen, Sherry, "The F Word in Architecture: Feminist Analyses in/of/for Architecture," in Thomas Dutton and Lian Hurst Mann, eds. Reconstructing Architecture: Critical Discourses and Social Practices, MN: University of Minnesota Press, 1996
––– "The Space between the Studs: Feminism in Architecture," Journal of Women in Culture and Society, Vol.29 (2003), p.179
Ball, Edward, "Architects Who Can Say No," The Village Voice, March 1991
Benatar Blanco, Victoria, "Cities of the Americas in the Information Age," TRANS, Vol. 1, issue 2 1996, or http: //www.echonyc.com/ -TRANS
Blanco, Adriana, "Redefiniciones: Entrevista a Susana Torre," La Prensa, Buenos Aires, April 4, 1995
Bletter, Rosemarie Haag, "Collaboration: Artists and Architects." Art Journal, Winter 1982
Bliznakov, Milka, "Susana Torre," in Stephen Sennott, ed. Encyclopedia of Twentieth Century Architecture, Fitzroy Dearborn, Chicago:2000
Boissiere, Olivier, "Columbus, les architectes aux champs", Le Monde, August 13,1988
___"Susana Torre et la Raison", Architecture Interieure Cree, September 1977
Boles, Daralice, "Teaching Architecture." Progressive Architecture, Sept. 1986
Bonta, Juan Pablo, American Architects and Texts. A Computer-Aided Analysis of the Literature, Cambridge: MIT Press. 1996
Breeze, Carla, New Modern, New York: PBC International, Inc, 1995
Brenner, Douglas, "Remodeled Carriage House Eastern Long Island by Susana Torre," Architectural Record, May 1982
Bush, Akiko, "Stable Contradictions," Metropolis, January 1982
Peter Carlsen, "Design: Susana Torre", Avenue Magazine, May 1979
Carson, Ray, "First Impressions: Interview with Susana Torre," Cranbrook Journal, Fall/Winter 1995
Carter, Ann, "Roosevelt Housing Competition," Progressive Architecture, November 1975__"
Castiglione, Sergio, "Una Pieza de Colección" (Fire Station 5,) Arquitectura y Construcción, El Cronista Comercial, Buenos Aires 12/19/90
Castle, Frederick Ted, "Susana Torre and Alan Wexler at Feldman." Art in America, April 1985
Chambers, Karen S. "Big Time Architecture in a Small Town," World and I, January 1991
Chapman, Laura, Discover Art, MA: Davis Publications (Books on Art Education) 1992
D'Amato, Claudio and Latour, Alessandra, "Roosevelt Island Competition," Controspazio, December 1975
Davis, Douglas, "Designing Women," Newsweek, March 7, 1977
Dean, Andrea O., "Women in Architecture: Individual Profiles and a Discussion of Issues," A.I.A. Journal, January 1982
Diamonstein, Barbaralee, editor, Collaboration: Artists and Architects, New York: Whitney Library of Design,
1981
Dibar, Carlos, "Con toda la luz," review of Garvey House, Noticias (Argentina), April 7,1991
Dickinson, Duo, Adding-on, New York: McGraw-Hill, 1984
Dietsch, Deborah. "Muses, Furies and Goddesses – Editorial," Architecture, May 1995
Doumato, Lamia, American Women Architects: A Bibliography, New York: Garland Press, 1988
___ Susana Torre: A Bibliography, New York: Garland Press
Dove, Christina, "And Where Are the Female Architects?" Modern Design Magazine, January 2008
Drimer, Margaret, "Speaking Freely: Susana Torre," Residential Interiors, Sept./October 1979
Emanuel, Muriel, ed., Contemporary Architects, NY: St. James Press, 1985
Eriæ, Zoran. "Personal Space–Public Body," Art-e-fact 01, web-based art & culture journal, Yugoslavia 2003
Feuerstein, Marcia. "An Interview with Susana Torre," in Reflective Practitioner Issue II, Virginia Tech, 2002
Filler, Martin, "Between Dream and Memory," House and Garden, January 1982
___"Collaboration: Artists and Architects at the New York Historical Society," Art in America, May 1981
___"Harbingers: Ten Architects," Art in America, summer 1981
___"Rooms for Improvement," Progressive Architecture, Dec. 1978
Fisher, Thomas, "The New Public Realm", Progressive Architecture, October 1992
Fitch, James Martson, "Playing with Plagiarism, Paraphrases and Puns," Oculus, May 1981
Franck, Karen A., "A Feminist Approach to Architecture," in Ellen Perry Berkeley, ed. Architecture, A Place for Women, Washington and London: Smithsonian Institute Press, 1989
Gaines, Joanne, et al., "A Competition for a Gate," The Harvard Architectural Review 5, 1986
Geibel, Victoria, "The Act of Engagement," Metropolis, July-August 1986
Goldberger, Paul, "Bringing Light and Space to a Tenement," The New York Times, 5/5/1987
___"Diversity and New Directions," On the Rise, Penguin Books, 1985
___"Emerging Young Architects," The New York Times, 9/16/1982
___"Young Architects Display Recent Visionary Designs," The New York Times, 9/19/1975
Gordon, Alistair, "Simply Smashing" (review of Garvey House,) Newsday Home Magazine, 5/3/1992
Grüter, Ghisi, Il Disegno degli Architetti Americani, Rome: G. Gangemi, 1986
Gusevich, Miriam, "Fire Station #5. Columbus, Indiana," Inland Architect, Sept./October, 1987
Gutterman, Scott, "Family Circles." The Architectural Record Houses Mid-April 1988
Haar, Sharon and Reed, Christopher, "Coming Home: A Postscript on Postmodernism," in Christopher Reed, ed. Not At Home: The Suppression of Domesticity in Modern Art and Architecture, London: Thames and Hudson, 1996
Herbers, Jill, Great Adaptations, New York: Whitney Library of Design, 1990
Horsley, Carter, "Touch of the Poets," New York Post, 5/12/1988
Hoyt, Charles, " Do New Family Concepts Call for a New Housing Type?" Architectural Record, September 1980
___" New Interiors Catch the Spirit of the Older Buildings They Transform." Architectural Record, May 1980
Huxtable, Ada Louise, "The Last Profession to be 'Liberated" by Women," The New York Times, 3/13, 1978
Jackson, Kenneth, ed., The Encyclopedia of New York, New Haven: Yale University Press, 1995, under "Architecture"
Jagodzinski, Jan. Pun(k) Deconstruction Experifigural Writings in Art&Art Education, Lawrence Erlbaum Associates, Publishers 1997 Mahwah, New Jersey London
Jensen, Robert and Conway, Patricia, Ornamentalism, New York: Whitney Library of Design, 1982
Katz Smith, Laura, "International Archive of Women in Architecture: A Guide to the Collections," Virginia Polytechnic Institute, Blacksburg: University Libraries, 1991
Klein, Judith Graf, The Office Book, New York: Van Nostrand Reinhold, 1983
Kulterman, Udo, Architecture in the 20th Century, New York: Van Nostrand Reinhold, 1993
Landecker, Heidi, "Why Aren't More Women Teaching Architecture?", Architecture, October 1991
Latha, Sasa. "Gender and Space", publication of papers presented at a congress on Gender and Space organized by the University of the Aegean Graduate Studies Program in Mitilini, Lesbos, October 2003.
LeBlanc, Sydney, 20th Century American Architecture: 200 Key Buildings, New York: Whitney Library of Design, 1993; republished as The Architecture Traveler. A Guide to 250 Key 20th -Century American Buildings, New York: W.W. Norton 2000
Lippard, Lucy, "Complexes: Architectural Sculpture in Nature," Art in America, January 1979
Lipstadt, Helene, The Experimental Tradition. Essays on Competitions in Architecture, New York: Princeton Architectural Press, 1989
Lobell, John, "American Women Architects," Artforum Summer 1977
Lorenz, Clare, Women in Architecture, New York: Rizzoli International, 1990
Love, Barbara J. (Editor) and Nancy F. Cott, Feminists Who Changed America, 1963-1975, Urbana and Chicago: University of Illinois Press, 2006
Martin, Stewart. "A New World Art? Documenting Documenta 11." Radical Philosophy 122, Nov-Dec. 2003
McCourt, Mary Ann, "Cranbrook's Susana Torre," Oakland Progressor (Michigan), January 1995
McCoy, Esther, Guide to U.S. Architecture, Santa Monica, CA: Arts + Architecture Press, 1982
Messina, Gigliola, "Consolato per la Costa d'Avorio a New York," L'Industria delle Construzioni, January 1981
Miller, Abbott, "Cranbrook: The Future. Interview with Susana Torre," Statements, American Center for Design, 1995
Morton, David, "Neotypes: Susana Torre" and "For More Complexity," Progressive Architecture, May 1977
___"The House as a Relevant Object," Progressive Architecture, August 1976
Muntañola Thornberg, Josep, "Susana Torre, sus proyectos, sus historias" ON Nº 30 (Barcelona), 4/15/ 1982
Muschamp, Herbert, "The Homeless and the New Cold War," The New York Times, 1/9/1994
Naylor, David, ed., Contemporary Masterworks, London: St. James Press, 1992
Oliver, Richard, "Emerging Voices." Skyline, January 1982
Osenda, Natacha Veronica. "Destabilizing machismo: masculine and feminine construction in the theater of Susana Torre," Urban Theaters by Five Students, Electronic Thesis, Virginia Polytechnic University Libraries 2003
Parks, Janet, ed., Contemporary Architectural Drawings, San Francisco: Pomegranate Art Books, 1991
Perry, John, Explorations, Museum of Finnish Architecture, 1982
Pomeroy Schwartz, Joyce, Artists and Architects. Challenges in Collaboration, Cleveland Center for Contemporary Art, n/d
Porter, Luis, "Arquitectura y Feminismo," Enlace, Arquitectura Internacional (Mexico), April 1993
Phillips, Patricia C., "Susana Torre, Alan Wexler," Artforum, April 1985
Rendell, Jane. "Tendencies and Trajectories: Feminist Approaches to Architecture". The Sage Handbook of Architectural Theory, Sage Publications Ltd. 2012 , pp 85-97
Rothschild, Joan and Victoria Rosner, "Feminisms and Design: Review Essay," in Joan Rothschild (ed.) Design and Feminism, New Jersey: Rutgers University Press 1999
Schmertz, Mildred, "Housing and Community Design for Changing Family Needs," Architectural Record, October 1979
Shoshkes, Ellen, The Design Process; Case Studies in Project Development, New York: Whitney Library of Design, 1989
Slesin, Suzanne, "Changing Housing as Families Change," The New York Times, 11/22/1979
Smith, C. Ray, History of 20th Century Interior Design, New York: Harper and Row, 1984
Smith, Herbert L., Jr. , "Pastorale," Architectural Record, March 1988
Sorkin, Michael, "The Odd Couples," The Village Voice, March 18-24, 1981
Stephens, Suzanne, "The Woman Behind the T-Square," Progressive Architecture, March 1977
___ "Women in Architecture – Breaking New Ground." House and Garden, March 1981
___"Not Only Zaha," The Architectural Record, December 2006
Stern, Robert A. M., "Forty Under Forty," a + u, January 1976
Stern, Robert A. M., ed., "American Architecture: After Modernism," a + u, March (Extra Edition) 1982
Stern, Robert A. M., ed., "On the Paint (With All Courts)," International Design Yearbook, London, 1985
Stern, Robert A. M. and Nevins, Deborah, The Architect's Eye, New York: Pantheon, 1979
Stern, Robert, Mellins, Thomas and Fishman, David, New York 1960. Architecture and Urbanism between Second World War and the Bicentennial, New York: The Monacelli Press, 1995
Stern, Robert A. M., Fishman, David, and Tilove, Jacob. New York 2000: Architecture and Urbanism from the Bicentennial to the Millennium. New York: The Monacelli Press, 2006
Tallmer, Jerry, "A Woman's Place: The Drafting Table," New York Post, 2/26, 1977
Tigerman, Stanley, The Chicago Tapes, New York: Rizzoli, 1987
Tigerman, Stanley and Cohen, Stuart, ed., Chicago Tribune Tower Competition/Late Entries, Volume II, New York: Rizzoli, 1980
Turner, Jane Shoay, ed., The Dictionary of Art, London: McMillan Publishers, 1996
Twombly, Robert, "Ellis Island: An Architectural History," in Susan Jonas, ed., Ellis Island. Echoes from a Nation's Past. New York: Aperture, 1989
Vegeto, Mavia, "Metropoli Ora Zero," Construire (Milan), May 1991
Visoni, Virginia, "Una Donna, Una Casa." Amica, October 1978
Weber, Eva, "Technology That Blends In," PV Magazine (Germany), 11/2012
Weidiger, Paula, "Architecture as Art," Mode Australia, April/May 1981
Weisman, Carter, "Cityscape: Missed Connections," New York Magazine, 4/16/1981
Weisman, Leslie Kanes, Discrimination by Design, Urbana and Chicago: University of Illinois Press, 1992
White, Norval, AIA Guide to New York City, Fourth Edition, New York: Random House 2000
Wolfe, Kevin, "Island of the Dreams," Metropolis, January/February 1985
Ziesing, Alice, "Some American Architects Today," A Magazine, UCLA, Los Angeles, Summer 1976
Unsigned, Abstract, Columbia University, 1987-88 and 1988-89
___"American Young Architects," SD (Japan) 1981
___Built by Women: A Guide to Architecture in the New York Area, New York: Alliance of Women in Architecture, 1981
___"Casa Cuartel de Bomberos en Indiana," SUMMA Coleccion Tematica # 24, Buenos Aires
___"Consulate of the Ivory Coast," a + u, March 1981
___Dictionnaire de l'Architecture du XXeme siecle, Paris: Hazan Editions, 1996
___Dictionary of International Biography, London, 1980
___"Ellis Island," OZ, Journal of the College of Architecture and Design, Kansas State University, 1982
___Emerging Voices – A New Generation of Architects in America, New York: Princeton Architectural Press, 1986
___"Helter Shelter," New York Magazine, 9/29, 1975
___International Archive of Women in Architecture, "Inventory of the Papers of Susana Torre (1977-1989)
___"La Casa Recisa," Grand Bazaar, April 1984
___Marquis Who's Who
___"National Museum of American Quilts," Precis 4, Columbia University, 1983
___"New Waves in American Architecture." GA Houses 11, 1984
___"Precedent and Invention," The Harvard Architectural Review, 1986
___"Remodeled Carriage House," Toshi Jukatu, February 1984
___"Spazi illusori e sculture iperrealiste," Arredamento, November 1978
___"Spectacle Island and Jacob's Pillow Dance Festival," Montana State University Architectural Review, 1986
___"Spectacle Island and Jacob's Pillow Dance Festival," OZ, Journal of the College of Architecture andDesign, University of Kansas, 1985
___"Susana Torre, sus proyectos, sus historias," ON No. 31 (Barcelona,) March 1982
___The Presence of the Past. First International Exhibition of Architecture. Venice: Edizioni La Biennale di Venezia, 1980
___The Socially Responsible Environment, USA/USSR 1980-1990, exhibition catalogue, ADPSR and USSR Union of Architects, New York: 1990
—– What is Female Imagery?, " Forum, Ms. Magazine, May 1975